Portable Toilets With Sinks!
Porta-Johns, Porta-Potties, Portable Toilets Also Come with sinks and either running water, if you have a hookup, or with refillable storage tanks. We keep our equipment clean and supplied with hand sanitizers, soaps, paper towels and toilet paper.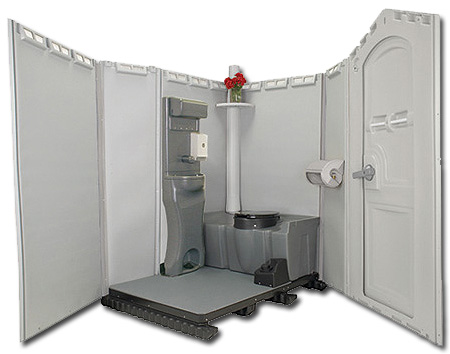 Clean Interiors, New Equipment, Serviced Regularly, Emptied Frequently.... We even have lighting if you have electrical hookups available.
Our 1.5 Unit has a large, roomy interior.
Specifications Overview:
Height: 89" (2261 mm)
Width: 64" (1626 mm)
Depth: 48" (1219 mm)
Weight: Just over 200 lbs (standard model)
Standard tank vol: 62 gallons (234 liters)
Seat height: 19.25" (489 mm)
Door opening: 72" x 24" (1829 mm x 609 mm)
Additional Space: Provide your customers almost twice the floor space of standard restrooms. Best of all, one person can handle pick up and delivery and it fits easily on standard trailers or in a pick-up bed.
Excellent Value: The 1.5 provides operators an option for a low priced, spacious special event restroom. When equipped with flushing and hand wash, the 1.5 provides end users a very comfortable, roomy environment.

The Aspen Elite!

Innovative new concept with fresh water reservoir located behind waste tank. Includes the Sierra SideKick Plus inside sink.